Welcome to Ayres Hotels
Event Calendar
Celebrate St. Patrick's Day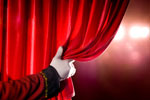 Green's the way to be on this fun filled day! Celebrate St. Patrick's Day through a treasure hunt, Irish art, and leprechaun visits. Today everyone will have the opportunity to participate in:

Sensational Story Time: Rainbow Ribbons - This little me morning will take you on a rainbow journey with the littlest leprechaun. Do a leprechaun dance as you watch your rainbow ribbons soar as you dance to the beat! High and low and round they go!
Good to Go Activity: End of the Rainbow Treasure Hunt - Our rainbow has lost its pot of gold! Using your child's color identification skills go on a treasure hunt through the city to see if you can find the rainbows pot of gold for you to win your very own "pot of gold"!
Let's Move: Lucky Leprechaun Game - See if you're the lucky leprechaun of the day by participating in some fun St. Patti's Day group games.
Science Secrets: Leprechauns Magic will have fun with the myth of Leprechauns and St. Patrick's Day traditions while exposing your child to the scientific explanation of each activity.
Don't forget to wear your favorite green costume for an Irish inspired heading home parade!

Play Partner: Pretendgineers and Brain Builders, our experienced stage staff of trained early childhood and child development educators, grown-ups

Grown-up Tip: Don't just wear your green, eat your green! Do you have trouble getting your child to eat their greens? St. Patrick's Day is the perfect opportunity to play on the color of the day with food. Fill a muffin pan with various healthy green foods like celery, cucumbers, avocados, and more. Tell your child that they will be tasting leprechaun food. This will inspire your child to eat healthy and have fun!
Details
Start:
March 07, 2016
End:
March 07, 2016
Where:
Pretend City Children's Museum 29 Hubble
Irvine,
Ca
Phone:
Event Type:
Arts & Theater
Ticket Price:
By submitting this comment you agree that your personal information will be made public.