Welcome to Ayres Hotels
Event Calendar
OC DIY Presents: Crying, Pedestrian, I'm Glad It's You, Playing Tourist Forever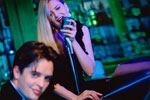 Only in 2016 could a chiptune band sound like the new kings and queens of rock and roll. Crying's first two EPs won us over by coupling video game keyboards with the sort of guitar work that'd make Big Star proud. They just released a new single in anticipation of a new album from Run for Cover hovering between the best of synthpop and Weezer style power pop. We're not sure what the next record will sound like but we're so excited and thankful for them to bring their unique, terrific sound to our new space. They'll be accompanied by Pedestrian's post-rock landscaping, I'm Glad It's You's life-affirming emo and fellow let's-rock-out chiptuners Playing Tourist Forever. - Mack Hayden ~~~~~~~~~~~~~~~~~~~~~~~~~~~~~~~ Sept 3rd // $10 // No Re-Entry Doors 7:30pm Music - 8:00pm ~~~~~~~~~~~~~~~~~~~~~~~~~~~~~~~ Listen to the bands below! Crying https://soundcloud.com/runforcoverrecords/crying-wool-in-the-wash Pedestrian https://pedestrianband.bandcamp.com/ I'm Glad It's You http://music.6131records.com/album/daydreams playing tourist forever https://playingtouristforever.bandcamp.com/ ~~~~~~~~~~~~~~~~~~~~~~~~~~~~~~~ OC DIY is an organization dedicated to promoting independent musicians and artists by giving them the opportunity of creative expression thru arts, culture, and community engagement inside a safe(r), sober environment for all ages. We want everyone to enjoy themselves at our shows; however, we will not tolerate any violent behavior or aggressive conduct that makes others uncomfortable.
Details
Start:
October 03, 2016
End:
October 03, 2016
Where:
Orange County DIY 22651 Lambert Street, Suite 109, Lake Forest, CA, United States
Lake Forest,
California
United States
Phone:
Event Type:
Concerts & Music
Ticket Price:
By submitting this comment you agree that your personal information will be made public.