Welcome to Ayres Hotels
Event Calendar
BBQ - BACON - BOURBON : VIP DINNER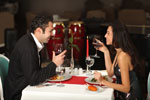 Ready to show off your VIP'ness? I thought so.Well, if you're reading this Facebook has chosen YOU, through it's know-it-all algorithm, knowing that there's something about BBQ, Bacon, Beer & Bourbon that may intrigue you. This is the first of our monthly VIP dinners we are holding at each of our restaurants that are carefully curated by Scott Slater and Chef Tony.So what does this epic epicurean experience entail? FOOD, and lots of it, family style with your fellow VIPs and a straight up bottle of Bourbon just chilling' on the table waiting for you to free pour yourself into butt dialing the closest uber driver.For September we are fast forwarding you holiday diet fails and making it oh so flippin' good. Lets start with the new Jalapeño Dip which will be the headliner in our new Football Sunday Menu,Thick (like 1/2 inch thick) slab of baconMonster Beef Rib that will make your drive-in foot mobile flip faster than Fred Flintstone'sA Bratwurst Burger - ***Pause for reflection*** 100% Bratwurst patty with bacon green apple rendered sauerkraut and a bunch of other sour treats piled on topOld School "Slater-ized" potato saladCorn on the Cobb - You can only guess it won't just be butter we slather you withAnd a cute "little" Bacon Brownie ice cream sandwich to wash it down.Not sure if we made you hungry or just full from reading it, either way get your tickets and we'll prove that this will be the best decision you've made in the last 10 minutes.
Details
Start:
September 15, 2016
End:
September 15, 2016
Where:
Slater's 50/50 parking lot 8009 Day Creek Blvd
Rancho Cucamonga,
California
91739
United States
Phone:
Event Type:
Food & Dining
Ticket Price:
By submitting this comment you agree that your personal information will be made public.