Welcome to Ayres Hotels
Event Calendar
The Red That Colored The World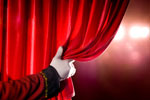 Red- that fiery hue that inspires feelings of anger, lust, passion, and violence- has been ever-present in many forms of art, as historians have shown. And its use stems farther back than we imagine, even before the 16th century when Spanish conquistadors encountered the cochineal bug and the juice it produces- a deep carmine red dye. Since then, the bug's dye has been used to in everything from food dye to lipstick, and has seeped into creating symbolism in paintings, sculpture, fashion, and more. Check out many examples of crimsoned works of art in the new Bowers Museum exhibit 'The Red That Colored The World,' co-organized by the Santa Fe Museum of International Folk Art which centers its scope on how the tiny bug's juice changed art from Mexico to the U.S. to Europe and beyond.
Details
Start:
November 20, 2015
End:
November 20, 2015
Where:
Bowers Museum 2002 N. Main St.
Santa Ana,
Ca.
USA
Phone:
Event Type:
Arts & Theater
Ticket Price:
By submitting this comment you agree that your personal information will be made public.