Welcome to Ayres Hotels
Event Calendar
Timeless Melodies: "Puttin' On Your Top Hat"- The 1930's Part 1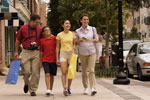 The Great Depression took a tremendous toll on American hopes and dreams. Popular music thrived with courageous Broadway musicals, innovative dancers, and the songs to escape the pain. Join Larry Maurer of Timeless Melodies for the first of two parts on this extraordinary decade remembering the great radio singers (Bing Crosby), breakthroughs in dance (Astaire & Rogers), the first decade of Oscar winning songs, and the child stars (Shirley Temple, Judy Garland).
Location: Norma Kershaw Auditorium
Price: Members or with paid museum admission $9 | General $12
TICKETS: Online or onsite. Questions? E-mail programs@bowers.org or call 714.567.3677. Proceeds benefit Bowers Museum Education Programs. Tickets are non-refundable.
Photo Credit: Wikimedia Commons
Location: Norma Kershaw Auditorium
Details
Start:
September 22, 2016
End:
September 22, 2016
Where:
Bowers Museum 2002 N. Main St.
Santa Ana,
California
92706
United States
Phone:
Event Type:
Family
Ticket Price:
Members or with paid museum admission $9 | General $12