Welcome to Ayres Hotels
Event Calendar
FUNDO DE QUINTAL Live in LA!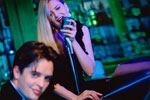 Grammy Nominee GRUPO FUNDO DE QUINTAL - THE ROOTSY EUPHORIA OF THE GROUP WHOSE NAME IS SYNONYMOUS WITH PAGODE, RIO DE JANEIRO'S BACKYARD SAMBA BAND SUNDAY, OCTOBER 9 AT 6PMAUTHENTIC SAMBA AND FEIJOADA (BRAZILIAN NATIONAL DISH) COMES TO SAMBA STEAKHOUSE & LOUNGE IN HERMOSA BEACHBrazilian Nites Productions presents the rhythms of Rio de Janeiro with the most authentic and traditional Brazilian samba group, FUNDO DE QUINTAL, directly from Brazil in an afternoon of Samba, Feijoada and Caipirinha on Sunday, October 9 at Samba Steakhouse in Hermosa Beach.Fundo de Quintal (backyard samba) is one of the most important bands of Samba. Cacique de Ramos (Indian Chiefs of Ramos), a suburb of Rio where they started meeting to sing, play drink, and dance in samba jam sessions in the 1970s. Fundo de Quintal has earned numerous gold and platinum records along with ten Sharp awards (Brazil's former equivalent of the Grammy), seven of them received consecutively as - and it's not difficult to understand why - the best samba band in Brazil. The group is composed of five musicians - Bira Presidente, Ubirany, Sereno, Ademir Batera, and Ronaldinho. Three additional percussionists show audiences a greater variety of samba instruments. Fundo introduced maverick instruments, such as the banjo, into samba giving it new spice and flavor. As Beth Carvalho said "this is the example of the most authentic samba." https://www.youtube.com/watch?v=FqV9Uza4uIshttps://www.facebook.com/grupodesambafundodequintalhttps://www.instagram.com/grupodequintalDaniel Carnerio and his band New Cycle will be releasing his latest CD.www.newcycleband.com , www.danielcarneiro.comhttps://www.youtube.com/channel/UCTKNDZDrDwR00qA81CCpsxw https://itunes.apple.com/us/artist/daniel-carneiro/id888183048 Schedule:5:30 pm - Doors6pm - 7:00pm - Feijoada & Daniel Carneiro and Banda New Cycle CD Release7:15 - Grupo Fundo de QuintalTickets: $45 General Admission ($55 at the door), $65 ($75 at the door) Reserved Seat, Feijo
Details
Start:
October 09, 2016
End:
October 09, 2016
Where:
Samba Brazilian Steakhouse 207 N Harbor Drive
Redondo Beach,
California
90277
United States
Phone:
Event Type:
Concerts & Music
Ticket Price:
By submitting this comment you agree that your personal information will be made public.